Animal Jacquard knit sweater with black fushia and bronze zebra V-neck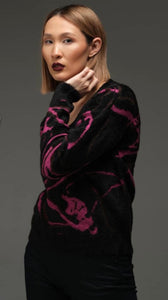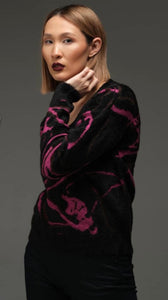 Animal Jacquard knit sweater with black fushia and bronze zebra V-neck
Tax included.
Shipping
calculated at checkout.
This jacquard knit sweater features a textured pattern that mixes black, fushia and bronze colors. The animal jacquard pattern adds a touch of originality and sophistication to the sweater. The V-neck frees the neckline in a flattering way and adds a feminine dimension to the piece.
The sweater is made from a blend of high quality fibres, such as wool or a mix of wool and other materials, to ensure warmth and comfort. The mesh is generally soft and pleasant to the touch, providing a feeling of luxury. 
The straight-cut black pants are also a timeless Eva Kayan brand, which goes very easily with our jacquard sweater for a casual-chic look.  



Eva Kayan is a French brand that reinvents itself over the seasons to give women a resolutely modern look.
With pieces made exclusively in Europe, Eva Kayan demands quality.
Description:
Jacquard knit jumper OMT059
Fitted cut 

Jacquard detail

V-neck